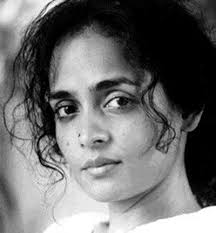 India's Arundhati Roy (born 1961) is a woman of many talents. She is an author, columnist, actress, and human right activists. However, one thing which makes her unique is she hates to apologize for her criticism of Israel and the genocide of India's top Muslim minority (150 million) carried out by the Hindutva religious facists under the protection of Indian government and its law enforcement agencies.
In her latest book, Listening to Grasshoppers: Field Notes on Democracy, she shatters the India's myth of "World's largest democracy" (though India has world's second largest population after China).
Roy sees the 2008 terrorist attack as grasshopers (as they visited Armenia in 1915 a few months before the genocide of 1.5 million Armenians at the hands of Crypto-Jew Turk military leaders) nibbling on a harvest of poisonous seed sown by Hindu fascism long time ago. India which is projected as a secular society of several dozen ethnic groups – has been sowing those poisonous seeds by persecuting its Muslim, Christian and Sikh minorities for decades.
Following are some of the important question Arudhati Roy raises in her book.
1. What kind of a democracy would hand over the keys of an Islamic mosque, the Babri Masjid, to a baying Hindu mob, so the could demolish it brick by brick, as happened in 1992?
2. What kind of a democracy would use half a million soldiers to persecute a mostly Muslim nation, Kashmir, in the world's biggest military occupation, leading India and Pakistan to the brink of nuclear war?
3. What kind of a democracy would allow the murder of 2000 Muslims and eviction of further 150,000 in the Gujrat riots in 2002?
According to Roy, India's occupation of Kashmir is a mirror image of Israel's occupation of Palestine ( watch her in video at the end of this post) and US-led occupation of Iraq and Afghanistan. But superpowers such as the US, she says, don't have allies – but agents.
The recent Hindutva fascism is targeting the poor Natives of Central India for the western multi-national corporations so they can rob these people of their natural resources. Satnam & Buta Singh in article titled Stop War Against The People wrote: " The government (of India) has deployed lakhs of armed forces to destroy the resistance of people, especially at places where it is strong and formidable and hampers the capitalists from acquiring resources rich lands. When government says it wants to take back the areas controlled by Maoists, in fact, it wants to smash the resistance of the people and snatch their lands to offer these to the mining giants, industrialists and super rich businessmen. Maoism is nothing but the rebellion of people against the injustice….."
Israel, like in the case of India's "War on Muslims", is more than happy to help Indian government to fight against other people rsisting Hindu upper-caste domination. Israel's Chief of Army, Lt. Gen. Gabi Ashkenazi is right now meeting his Indian counterpart, Gen. Deepak Kapoor in India. Gen. Deepak Kapoor was in Tel Aviv last month.